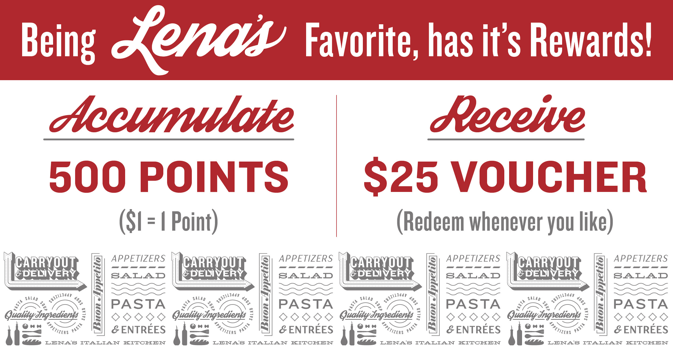 Visiting Lena always meant knocking on the side door, and being greeted with a big hug and a smile. With our family, you could usually expect some laughing and teasing as we made our way into the kitchen. Often times the kitchen was noisy and crowded, but we cherished every moment.
Whoever visited Lena most often got taken care of the best. I can still hear her saying she made my favorite, or that she saved that last piece of cake just for me.
Here at Lena's we would like to keep that tradition alive- the more you visit, the more you can be rewarded. For every dollar you spend, you will receive one Lena's Favorite Point. Once you have accumulated 500 Lena's Favorite Points, you will be rewarded with a $25 discount.
Order now from Lena's, by phone or online, and allow us to prepare your favorite.
Points will not be accumulated through third party platforms. Seamless, Grubhub, Yelp, etc…